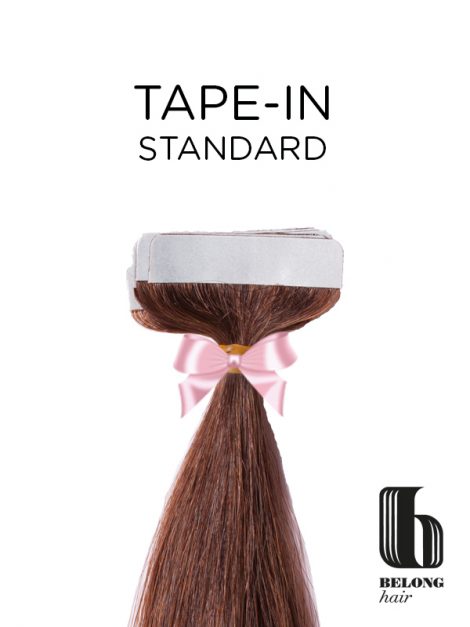 ◦ Type: Tape in 100% human hair
◦ Style: Straight
◦ Materials: Finest 100% Human hair
◦ Grade: Standard
◦ Weight: 2.5g x 10 pieces
Important! Product Type and Length must be selected before you can select a Colour.
£29.00 – £44.80
Description
TAPE-IN STANDARD
Tape-in extensions are fast becoming a must-have in the hair market. They are quick and easy to apply without the need for messy glues or tricky application procedures. The hair comes pre-taped so it is ready to apply immediately. Furthermore, the tape is flat so it contours to the shape of the head, it's extremely comfortable to wear and is easily disguised. With high grade 100% human hair the Belong Hair tape extensions are silky smooth and can be heat styled as you would your own hair with straighteners, blow dryers or curling tongs. The hair is sourced from Malaysia so you can be sure of excellent resiliency and a soft luxurious texture.
Each packet contains 10 pieces of 4cm wide pre-taped extension. One packet is suitable for colour highlights however many more packets will be required for full head coverage and the amount will depend on the overall desired thickness and length. The tape will last approximately 4 to 6 weeks, however the hair can be re-used for up to 6 months with new tape applied regularly. Please see our accessories section for the 3 yard adhesive tape roll.
How to use:
1) Begin by sectioning your hair from start to side at the lower back of the head.
2) Select a section of hair roughly the same width as the tape extension. Please note: the tape has a better chance of sticking if only a thin layer of hair is selected.
3) Remove the backing tape from one piece of extension and place this underneath your own hair with the tape side facing upwards.
4) At this point smooth your own hair over the tape making sure it isn't tangled.
5) Take another piece of extension and remove the backing. Place the tape face down on top of the other piece of extension, sandwiching the natural hair in between.
6) Ensure both tapes are firmly stuck together by pressing down for a few seconds before moving onto the next piece.
7) We recommend leaving your hair for 3 days without washing to allow the glue plenty of time to form a strong bond.
Additional information
| | |
| --- | --- |
| Weight | 45 g |
| Dimensions | 59 × 9 × 9 cm |
| Type | |
| Length | |
| Colour | #1 Jet Black), #1B (Off Black), #2 (Dark Brown), #4 (Chocolate Brown), #6 (Medium Brown), #8 (Medium Light Brown), #10 (Light Brown), #12 (Medium Ash Red), #14 (Medium Intense Strawberry Blonde), #16 (Intense Strawberry Blonde), #18 (Light Ash Brown), #22 (Light Golden Blonde), #24 (Light Blonde), #27 (Strawberry Blonde), #30 (Light Auburn), #33 (Dark Auburn), #99J (Deep plum), #613 (Lightest blonde), #60 (Bleach Blonde), #130 (Light Copper) |