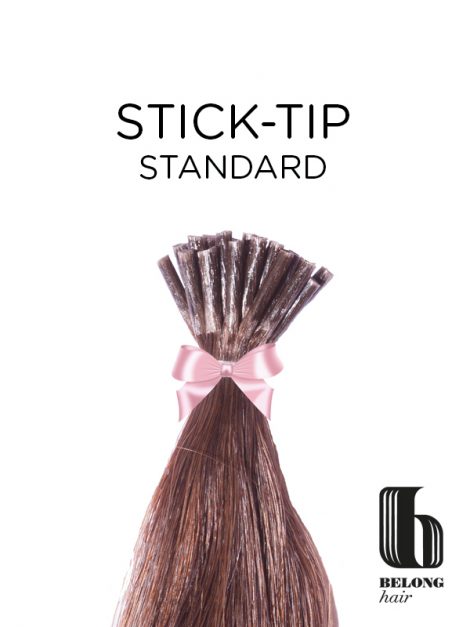 ◦ Type: Pre bonded I-tip 100% human hair
◦ Style: Straight
◦ Materials: Finest 100% Human hair, highest quality keratin
◦ Grade: Standard
◦ Weight: 0.5g x25 strands
Important! Product Type and Length must be selected before you can select a Colour.
£16.90
Description
STICK-TIP STANDARD
Only the finest hand selected 100% grade standard human hair has been used to create the Belong Hair premium range of pre-bonded extensions. Rich in moisture and shine the hair is silky, feels soft to the touch, full of vitality and extremely luxurious. To protect the hair and ensure the quality is long lasting we recommend using specially formulated aftercare products rather than everyday hair care items.
If you're looking for extensions which offer long term application without causing damage to your hair, pre-bonded stick tips are the perfect choice. Rather than using glue to secure in place, the stick tip extensions are added safely with the use of micro rings or tubes. No adhesive required! There are 20 strands of hair in each packet and each strand weighs in at 0.5 grams. This is more hair per strand than many other competitors which results in thicker, fuller more luscious extensions.
How to use:
Section the hair into rows from side to side, starting low at the back of the head.
Select a small section of hair, approximately the same size as the extension and twist. By twisting the hair this allows for easier threading.
The hair must then be threaded through a small aluminium micro ring. At this stage you can choose to use a wire loop, a metal hook or a needle pen. All of the tools are suitable as you simply need to pull your own hair through the hole in the micro ring.
Once the hair is threaded, position the micro ring around 1cm down from the scalp.
Take one strand of stick tip extension and place the keratin tipped end inside of the micro ring. This should slide in very easily.
If you're happy with the placement, you must now take a pair of pliers and squeeze shut the micro ring by clamping it inside of the metal pincers. As the micro bead is clamped shut it holds the extension in place with the natural hair.
This procedure can be repeated for the full head application.
Additional information
| | |
| --- | --- |
| Weight | 35 g |
| Dimensions | 59 × 9 × 9 cm |
| Type | |
| Length | |
| Colour | #1 Jet Black), #1B (Off Black), #2 (Dark Brown), #4 (Chocolate Brown), #6 (Medium Brown), #8 (Medium Light Brown), #10 (Light Brown), #12 (Medium Ash Red), #14 (Medium Intense Strawberry Blonde), #16 (Intense Strawberry Blonde), #18 (Light Ash Brown), #22 (Light Golden Blonde), #24 (Light Blonde), #27 (Strawberry Blonde), #30 (Light Auburn), #33 (Dark Auburn), #99J (Deep plum), #613 (Lightest blonde), #60 (Bleach Blonde), #130 (Light Copper), #12B, #14B, #16B, #18B, #20B, #22B, #24B, #60B, #613B, #6T22 Ombre, #8T22 Ombre, Small Black, Small Silver, Large Black, Large Brown, Large Blonde, Clear White, #Blue, #Burg, #Purple, #Pink, #Red, L.Brown, Brown, D.Blonde, D.Brown, G.Blonde, Blonde, Black |